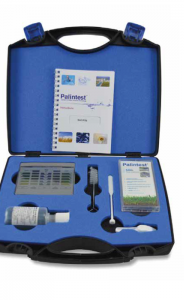 Soil pH is the most important single parameter for soil testing, providing not just information about the acidity or alkaline nature of soil but…
Product Description
Soil pH is the most important single parameter for soil testing, providing not just information about the acidity or alkaline nature of soil but also the availability of key nutrients.
The Palintest SK 100 Soil pH and Lime Requirement Kit delivers simple visual testing for horticulturalists, professional gardeners and farmers. Included in the SK 100 are:
pH Soiltester and reagents for 50 tests- clear visual soil pH testing with no requirement for calibration or maintenance
Lime Requirement buffer tablets – enhance soil pH testing by a simple follow-on test to calculate lime dosing needs
Provided in a robust field case to protect and store kit components including the unique Mini De-ion bottle
The SK 100 is a fundamental part of every crop or plant professional's toolkit, delivering rapid and reliable soil pH and lime requirement testing.
Product Features
Color

White

Size

Big

Weight

130

lbs